Learn How to Be a Credit Risk Hero at the IFA Conference in Miami
Published May 9, 2018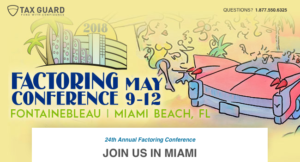 We are looking forward to the International Factoring Association Conference  (IFA) this year in Miami Beach. Some recurring and new team members will be there this year. Jason Peckham, Emel Gomulka, Kim Garrett, Rich Porterfield, and Pieter Leenhouts will all be at our booth and mingling around the conference all week.
We will be hosting our Annual Dessert Reception on Thursday from 9 – 11 p.m. If you are at the conference please join us for fun dessert stations and dancing and of course, drinks! This will be our 8th year hosting the event and we look forward to it every time. We will also be hosting our second annual Bloody Mary Bar on Friday from 9 – 11 a.m. Please stop by the booth for your complimentary and build-your-own Bloody Mary to start the last day of the conference off on the right foot.
If you are commercial lender attending the IFA conference this year please stop by to learn how to improve your due diligence and risk mitigation processes with Tax Guard reports. We would love to discuss with you our reporting and monitoring solutions that are unique to the factoring world so you don't get burnt by the IRS.
At our booth (#9) we'll be handing out copies of our "Definitive Guide to the  45-day Rule" white paper to help factors stay protected from the IRS, but if you're unable to grab one download your own copy now.
If you would like to schedule a consultation session with one of our expert team members in Miami please contact us to do so.
We hope to see you all there!