Tax Guard Product Updates – Q2 2020
Published July 15, 2020

Our Product and Engineering teams have been hard at work behind the scenes to make the Tax Guard experience better than ever.  
Check out our Q2 2020 highlights below:
COVID-19: IRS Deadlines
We're keeping a close eye on IRS changes with regards to the new COVID-19 tax return filing requirements. To ensure that all future reports account for these new date changes, our Engineering Team has updated the code to account for the new dates on the applicable tax returns.
Portal Feature: Tax Guard News  
We now have a new and improved Tax Guard News section of your portal dashboard! In addition to feature release updates, this section of your dashboard now includes valuable articles, videos and blogs about industry changes, tips, and insightful information into Tax Guard product offerings. 
See the screenshot of the Tax Guard News section on the portal below: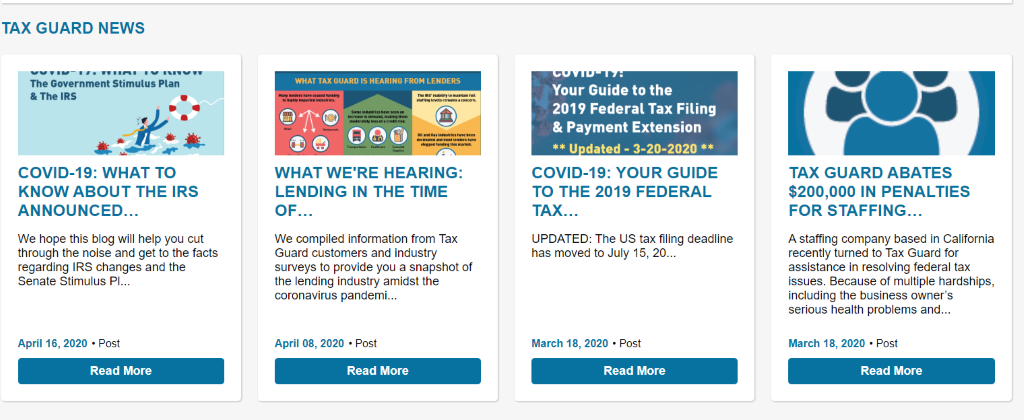 Security
We pride ourselves on creating a culture of security awareness by investing in top-notch security practices. Did you know you can use two-factor authentication to login to Tax Guard? Tax Guard supports YubiKey authentication for a strong second factor and supports one-time email tokens as a convenience for users without a YubiKey.
What's a YubiKey?
A YubiKey is a USB device that you insert into your computer and it generates a unique passcode every time you touch or tap a button. Both the software and hardware are protected in a way that makes it very difficult to tamper with. All Tax Guard employees are required to use YubiKeys with two-factor authentication to ensure your data is safe and secure.
We recently completed another annual SOC Type 2 audit and third-party penetration test. By collaborating with leading security firms, we regularly (and tirelessly) validate and ensure the safety of customer data. As always, all data is encrypted in transit and at rest, strong password management is enforced, and fine-grained access controls ensure that only authorized personnel can access sensitive data. Security is paramount at Tax Guard, and we are proud of our results and our commitment to keeping your information safe and secure.
For more information on Tax Guard's security commitments, please visit our security webpage here. 
Coming Soon!!! 
We are thrilled to announce that we have been working to provide a feature that many of you asked for in our recent customer survey. Increased Monitoring Frequency will be available for monthly, semi-monthly, or weekly reports for all monitoring lenders in the near future! 
We have the ability to customize several aspects of this product and would love a group of interested lenders to participate in our early release group.
If you are interested in helping us optimize this new reporting feature or have other product enhancement ideas, please contact us today!