Press Release: Tax Guard Named a Top 250 Private Company by ColoradoBiz Magazine
Published December 20, 2016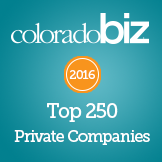 Boulder, Colo., December 20, 2016 – Tax Guard, a due diligence and risk management service for lenders, announced its inclusion, for the third consecutive year, in the Colorado Top 250 Private Companies list, an annual ranking by ColoradoBiz magazine. The company ranked number 145th this year. The magazine annually ranks and recognizes the largest private businesses in Colorado based on revenue growth.
In the past 12 months, Tax Guard has received several honors from industry leaders. The company ranked in Inc. Magazine's 5000 list of fastest growing companies, for the third consecutive year with a three year growth rate of 193%.
"Tax Guard is honored to, once again, be amongst such an amazing group of Colorado companies," said Hansen Rada, Tax Guard CEO. "Our continued growth is a testament to our talented and passionate team and their commitment to serving our commercial lending partners."
ColoradoBIZ, published for more than 40 years, is the state's leading business publication and media franchise. For a complete list of the Top 250 Private Companies, visit here.
About Tax Guard
Established in 2009, Tax Guard is the first company in the US to give lenders insight into their clients' hidden real-time tax risks well before liens are filed. Lenders throughout the US rely on Tax Guard's proprietary tax risk assessment tools both prior to financing and throughout the course of their lending relationships. Privately held and headquartered in Boulder, CO, Tax Guard utilizes a patent-pending, integrated process that includes due diligence and tax monitoring services based on data obtained directly from the Internal Revenue Service. For more information, visit www.tax-guard.com.